fire
candle

television

welding

"broken" fluoro
strobe
effect
Sample
description
Fire 3 channels
with LED
flickering shadows using 3x LED fixture
… with tungsten
flickering shadows using 3x tungsten lamp & dimmer pack
Fire 1 channel
single channel effects are fine if background is not close to object
Candle
for LED choose GEL/Kelvin
Use lamp with small surface of omitted light, e.g. household type bulb or small LED fixture.
TV – RGB
Composition of "cuts" and "pans" simulates a lighting effect of a TV.
Create RGB effects with shifting colors with a LED fixture. Improve color selection with an external 6-channel DMX console for separate RGB tuning connected @ DMX IN
TV 1 channel
soon
With LED choose fixed kelvin value for single channel TV effect, e.g. 6000 Kelvin
Welding
for LED choose GEL, kelvin, green/magenta.
Also use as a short-circuit effect.
"broken" fluoro
Effect of a not properly working fluorescent tube made for LED fixtures.
Adjust kelvin with a fixed DMX channel for LED fixtures as shown in the video sample
Strobe
soon
Simulates symmetric flashes. Ideal for effects of a neon sign up to strobe light.

High range of pulse speed settings

Add an offset brightness with "MIN DIM" to avoid setting an additional fill light.
Fire 3 channels with tungsten
Fire effect with LED fixture, GEL added by fixed DMX value



The most easy way to link a device is a device preset. It takes seconds for this flicker box.
There is a bunch of pre-programmed settings for devices e.g. for all the LED products of Kino Flo and most of Arri´s  LED range.
Simply select a device from a list, the LFX Master DMX will then display all required settings for the gear.
Because of the option to manually set-up DMX channels as well there is virtually no limit to get any –  most likely a LED fixture – gear working.
Use the LFX Master DMX as an inline device in an existing DMX universe or control LED fixtures, dimmer packs or fluoros out of the box.
Please see the list of device presets in the specs.
This short video shows how to apply a device preset in practice.
Original flames of a fireplace "dance" around.
The 3 channel "fire" preset of this flickerbox automatically alternates the dim level of each channel the way a real flame would behave – flickering shadows.
For TV effects with three channels even the color changes in RGB mode.
Use different effect gels on the three lamps – the color temperature would change either.

If the object is too far away from the background you will not see flickering shadows, normaly a distance of around 60 cm (2 ft) is ideal.
Use every type and size of tungsten lamps or LED.
A result of an effect would look different with the same signal used at different lamp types/sizes, particularly if an LED lamp is used.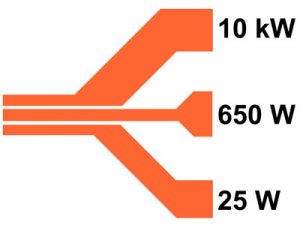 "Transitions" adapts effects to the duration of persistence of various types of filaments or to LED lamps. See sample clip: fire effects 
The timing difference between the moment of electrical deactivation and the time of a completely extinguished light depends on the power of the bulb.
Choose the transition mode depending on the connected type and size of lamp (bulb inertia).
Thus any lighting effect looks excellent – with a 10K, a redhead, a standard 60 W bulb, fluoros or LED.
Use "Transitions" for different styles of e.g. fire – from aggressive to smooth.
This is a preview of the powerful wireless options of the LFX Master DMX.
Use the Luminair App for wireless remote control of the flicker box.
For most easy set-up we will provide the project files of Luminair for Kino Flo LED fixtures, SkyPanel (Gel mode – as shown in the video – and RGB mode) and for different effect scenarios.
These project files including a set-up instruction for the flicker box will be available for free from www.lfxmaster.com soon.
order code
lmdx
operating voltage
6 – 32 VDC, universal PSU included for 90 – 240 VAC, 50/60 Hz, adapter plugs: US, UK, EU, AU
temperature operating range
-10°C …65°C (50 … 149°F)
Dimensions  (l x w x h)
20 x 11 x 8.6 cm (7.9″ x 4.3″ x 3.4″)
weight
650 gramms (1.4 lbs) without PSU
DMX protocol
USITT DMX-512-A
DMX sockets
5-pin XLR
DMX output
assisted configuration with device preset or custom DMX configuration.
Set DMX channels for CCT, G/M, gel and RGB or allocate an output channel to a DMX channel.
Device presets
Pre-defined DMX set-up for Kino Flo: FreeStyle LED, Select LED, Diva-Lite LED, Celeb LED, Parabeam, Parazip
Arri: Skypanel-C, L5-C, L7-C, L10-C, Broadcaster 2+; generic 2-channel LED, 12-channel tungsten dimmer pack, custom DMX channel allocation for all others
DMX input presets
Extend the functionality with a simple DMX console and presets @ DMX INPUT (optional dimmer console required)

separate dim (max & min) control for output channels 1, 2 and 3
remote control via DMX IN for all effects
DMX patch to any device channel or LFX Master DMX function

resolution preset
24 fps, 60 seconds loop
HD effects
Fire, Candle, TV, Welding, "broken" fluoro, strobe
Strobe t= 67.5 msec …28 secs, aspect ratio 50%
enclosure
made of 3 mm thick aluminum
software updates
no shipping, provided by e-mail, micro SD-card slot for updates built-in