LFXHub 3-channel flicker box w built-in dimmer
3-channel flicker box with built-in dimmer, input for sensors, lightning option
This product is sold out.
Description
LFXHub
The modular flicker box
Create natural looking lighting effects using HD flicker curves and 3 channels.
The input for accessories allows for talent controlled lighting, SFX & lightningFX.
Control any number and size of tungsten, LED, fluoros and even HMIs combined with dimmer-shutters.
Its high quality lighting effects is proven since more than 20 years.
HD flicker curves
12 presets
3 channels
Input for sensors
DMX-512 option
Lightning option
The numerous options for variations of all effects makes the LFXHub to the universal tool for lighting effects.
Versatile modular System
With the wide range of available accessories this flicker box can be extended to an interactive lighting control unit.
Let the talents control lighting!
fire
TV
short-circuit
torche
welding
sequenzer
neon signs
"broken fluoro"
flasher
candle
lava glow
photo flash*
police lights
explosion flash*
lightningFX*
strobelight
projector flicker
cross fader
starting fluoro
construction flasher
input for sensors
Original flames of a fireplace "dance" around.
The 3 channel "fire" preset of the LFXHub automatically alternates the dim level of each channel the way a real flame would behave – flickering shadows.
For TV effects with three channels even the color changes in RGB mode when three different lamps are used.
Use different effect gels on the three lamps – the color temperature would change either.

If the object is too far away from the background you will not see flickering shadows, normaly a distance of around 60 cm (2 ft) is ideal.
Use every type and size of tungsten lamps or LED.
A result of an effect would look different with the same signal used at different lamp types/sizes, particularly if an LED lamp is used.
"Ramp" adapts effects to the duration of persistence of various types of filaments or to LED lamps.
The timing difference between the moment of electrical deactivation and the time of a completely extinguished light depends on the power of the bulb.
Choose the transition mode depending on the connected type and size of lamp (bulb inertia).
Thus any lighting effect looks excellent – with a 10K, a redhead, a standard 60 W bulb, fluoros or LED.
Use "Ramp" for different styles of e.g. fire – from aggressive to smooth.
Drive the lamp you want
Different interfaces of the LFXHub makes it easy to drive virtually any lamp fitting your needs.
Smart interfaces simplify even normally time consuming set-up of lighting effects.
The internal built-in silent dimmer is perfect for most effects with tungsten lamps
Three 0…10VDC outputs operate ECGs for fluoros, analog strobes or analog dimmer packs or KinoFlo´s Divalite series
The optional DMX-512 module opens the door widely for control of LED lamps, multi-channel DMX dimmer packs, dimmer -shutter & strobes
No limits
The maximum output power only depends on the number and maximum output power of the connected dimmer or led fixtures.
Create a fire effect with flickering shadows or a sequencer for neon sign effects on the fly.
This is an upgrade option for the LFXHub.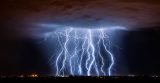 The "lightningFX" upgrade consists of the trigger module and a software upgrade with three additional presets: lightningX, single -flash and multi-flash.
Create stunning lightning and flash effects controlling one or more dimmer-shutter(s) using HMIs up to 18 kW or any number of LED lamps.
Link the shutters via DMX with the LFXHub.
The HMI is steadily on, the dimmer-shutter controls the brightness.
Advantages
extra power generator not required
spot or flood HMI(s)
daisy-chain a virtually unlimited number of shutters or LED
existing equipment can be used
multi-channel flashes
Create breathtaking "moving" thunderstorm flashes using three channels.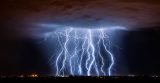 Specifications
order code
lfxhs (Schuko) • lfxhf (B, CZ, F, PL) • lfxhc (UK)
Power outlet
Schuko (most of Europe, Russia), CEE 7/V (CZ, F, PL, SK)  or CEE 16 Amps (UK)

General

operating voltage
200-240 VAC / 50 Hz
operating temperature
-20°C …70°C (-4°F … 158°F)
protection level w lid closed
IP22 (control panel IP65)
dimensions (l x w x h)
360 x 170 x 120 mm (14.1″ x 6.7″ x 4.8″)
weight
5.1 kg
LFXHub ID
individual text showing the owners details on the display, defined prior shipping

Internal dimmer pack

max. output power
3600 W @ 230VAC
peak output current
250 A for 10ms
upper dimmer level range (max)
0…100%
lower dimmer level range (max)
0…99%

Interfaces

analog OUT
three separate sockets: CH 1, CH 2, CH 3; short-circuit proof
according to industrial standard SL10
0…10V DC each channel
output configuration for CH 2 + CH3
selection for channel 2 and 3: synchronous, delayed, inverse opposite CH1

Analog IN control input

connected LFX Tool is automatically identified, short circuit-proof
digital in/output
connection for DMX-TX module or for software updates

DMX-512 output

requires optional available DMX-TX module MKII
DMX output channels
64 DMX channels for each LFXHub channel = max. of 192 DMX channels

Presets

resolution of every preset
24 samples per second at standard preset

Flicker generator

fire category
presets: fire, candle, welding
+ individual memory for "my recent setting"
TV category
presets: feature film, news, video clip
+ individual memory space for "my recent setting"

Puls generator

Triangle category
presets: sawtooth, sym. flasher, neon lights 1
+ individual memory for "my recent setting"
Rectangle category
presets: construction flasher, turn indikator, neon lights 2
+ individual memory for "my recent setting"
speed range 67.5 ms…28 seconds for one cycle
Symmetry
ti=1…99%
all specifications subject to change without prior notice
Downloads