RC4 Wireless DMX/RDM solutions
Movie-intercom is the distributor for RC4 Wireless products in Europe (excl. UK).
RC4 Wireless provides the widest range of wireless lighting and motion technology for theatre, film, and television since 30+ years.
Using batteries for power and wireless DMX for control, RC4 wireless dimming puts lighting in costumes, props, and set pieces.
Controlled from your DMX console or the flicker box LFX Master DMX or LFXHub (with DMX-TX module), seamlessly integrated into your scenes and cues, RC4 devices are as responsive and robust as any other fixture.
---
Get ready for the choice of RC4 Magic, Lumenradio or W-DMX standard in the comparison chart.
Helpful knowledge for the operation of wireless DMX systems.
RC4 based in the US is the most experienced wireless DMX expert world-wide – they are the first innovative explorer of wireless DMX technology.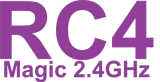 Comparison wireless systems
The RC4 Magic 2.4 GHz series provides the widest product range for virtually every required solution.
Secure
Every RC4Magic user and project is assigned unique and private RC4 System IDs.  Other users will never interfere with you, no matter how they have configured their equipment.  Their IDs are theirs; your IDs are yours.
RC4Magic devices on the same ID form a private wireless DMX network. Multiple IDs allow RC4Magic units to be configured as independent networks, each transporting a separate DMX universe.
Up to 15 different RC4Magic system IDs can operate in the same local area, on their own RF channels, without interference. Even more surprisingly, it is possible to operate more than one RC4Magic system on the same RF channel, with privacy assured by unique RC4 System IDs. Unlike frequency hopping (FHSS) systems that use large portions of the band, an RC4Magic direct-sequence (DSSS) wireless DMX universe demands only 1/15th of the 2.4 Ghz band.
Even with considerable rf congestion from WiFi, Bluetooth, and other wireless systems, multiple RC4Magic networks easily find the bandwidth they require.
Best of all, only RC4Magic leaves plenty of bandwidth for multiple WiFi networks and other radio-frequency technology to perform unimpeded.
As a system transmitter, the DMXio decodes the incoming DMX universe, encodes and encrypts it with your unique digital system ID, and broadcasts it using Direct Sequence Spread Spectrum (DSSS) digital radio. Unlike wired DMX, the broadcast signal includes error checking and correction codes, and is not affected by minor interruptions and interference.
As a receiver, the DMXio decodes the rf signal from the transmitter, rebuilds the DMX universe, and regenerates a standard DMX signal with the same number of channels and the same packet rate as the data going into the transmitter. DMX in and out are compliant with USITT DMX512/1990.
Worldwide World-Class Compatibility
RC4 LumenDim devices use genuine LumenRadio CRMX radio technology, ensuring compatibility with LumenRadio CRMX and Wireless Solution W-DMX transmitters, as well as a wide range of compatible products from numerous manufacturers.  Learn more about LumenRadio.
Best-in-Class RDM (Remote Device Management)
LumenRadio delivers seamless wireless RDM functionality, along with award-winning SuperNova RDM Controller software.  No other wireless RDM experience comes close.
RC4 LumenDim wireless dimmers provide extensive RDM functionality, including E1.37 dimmer configuration parameters, numerous real-time status sensors, and sub-device support.
Worldwide World-Class Compatibility
RC4 W-DIM devices use genuine Wireless Solution W-DMX G4 radio technology, ensuring compatibility with Wireless Solution transmitters and compatible products from a range of manufacturers.  Learn more about Wireless Solution.
Technical knowledge helpful for operation
Almost all commercial Wireless DMX systems operate in the 2.4 GHz band, which is harmonized worldwide.
Not All 2.4GHz systems are the same
Since the 2.4GHz band is heavily congested worldwide and becomes more so every day, it is important to choose an RF technology that is least susceptible to interference and least likely to cause interference for others.
Keep in mind that "others" includes any and all wireless technology in your production, not just strangers outside. RC4Magic at 2.4GHz uses Direct Sequence Spread Spectrum (DSSS), rather than more common Frequency Hopping Spread Spectrum (FHSS).  This is because DSSS delivers the best possible performance in a crowded RF space.
The key to better performance using DSSS is a mathematical principle called process gain.  The nature of FHSS does not provide significant process gain.  Only RC4Magic systems deliver wireless DMX with this important performance advantage.
2.4 GHz advantages:
Lowest worldwide-harmonized band, providing best RF performance for devices that must be operable anywhere.
Small RF components allow devices that are smaller in size.
2.4 GHz disadvantages:
Congested with more general traffic than any other band, sometimes reducing reliability for all systems, not just yours.
Cannot be used through water.  Performance will deteriorate in very high humidity environments.  Signals will not pass through bodies of water including animals and people.